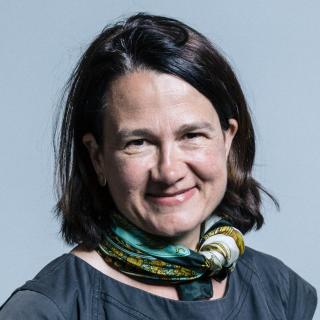 Catherine West MP
Co-Chair & Registered Contact
Labour - Hornsey and Wood Green
Joined: 28 September 2017, Chair since 2019
Catherine holds a degree in Social Science and Languages, a master's degree in Chinese Studies from the School of Oriental and African Studies and speaks five languages including Mandarin.
In April 2020, Catherine was appointed to Labour's front bench as Shadow Foreign Minister (Europe & Americas). Since first being elected to Parliament in 2015, Catherine has taken on a number of roles including Shadow Foreign Minister from October 2015 – June 2017 with responsibility for the Americas, Asia-Pacific, Oceania and the Overseas Territories and Shadow Sports Minister from January-April 2020.
Catherine has also served as a member of the Parliamentary Select Committee on International Trade and the joint Committee on Arms Export Controls and member of the Foreign Affairs Select Committee. In July 2018 she visited Kenya with MNMUK to see the impact of malaria programming first-hand.
Crossbench - Life Peer
Joined: 29 August 2018
Professor the Lord Trees graduated in 1969 from the Royal School of Veterinary Studies, Edinburgh. Following a research expedition to Kenya and a year in mixed general practice, Lord Trees completed a PhD on bovine babesiosis and then worked at Elanco (Rome) as veterinary advisor fortheir Middle-East/North African operations.
In 1980 he was appointed Lecturer in Veterinary Parasitology at the University of Liverpool, based in the Liverpool School of Tropical Medicine.  He was a Council member of the Royal Society of Tropical Medicine and Hygiene, a founding Diplomate of the European Veterinary Parasitology College, is an Executive Board member of the World Association for Veterinary Parasitology.
In 2021 he assumed the role as Chair of the Steering Committee of the United Against Rabies Forum, established by the tripartite organisations, WHO, FAO and OIE.
Tanmanjeet Singh Dhesi MP
Vice Chair
Labour - Slough
Joined: 20 May 2020
Tanmanjeet Singh Dhesi was elected as the MP for Slough, winning in the 2017 General Election with a 17,000 majority and later re-elected in 2019, thereby becoming the first ever turbaned Sikh in any European Parliament. Born in Berkshire, having spent his formative years in Slough, Tan received most of his primary education in the Punjab, India, before returning to the UK when he was nine years old. He studied Mathematics with Management at University College London, MSc Applied Statistics at Oxford University, before an MPhil at Cambridge in South Asian history and its connections with Great Britain.
After his studies, Tan worked in construction and even ran his own small company in Scotland.  In 2007, he was elected as a councillor in Gravesham, where he subsequently became Mayor in 2011. During this time he became a Cabinet Member, Constituency Party Chairman and had many voluntary roles including as a School Governor, as a trustee of an Alzheimer's and Dementia charity Trustee, as a Mencap Society advisor, and as an Independent Police Advisory Group member.
In Parliament, Tan is the Shadow Minister for Railways. He is the Chair of the All-Party Parliamentary Group campaigning for a Western Rail Link to Heathrow and has spearheaded the campaign for National Sikh War Memorial.
Baroness Hayman
Vice Chair
Crossbench - Life Peer
Joined: 30 July 2015
 As a politician she served as MP for Welwyn and Hatfield, and as the first elected Lord Speaker of the House of Lords in the UK Parliament, from 2006 to 2011. Besides having served in many roles relating to health and medicine, she has experience as a board member of many charities and trusts including serving as Board Chair for Malaria No More UK since 2019.
She became a member of the Privy Council in 2001 but left political office the same year to become chairman of Cancer Research UK (2001–2005). She became chair of the Human Tissue Authority in 2005. She was a Trustee of the Royal Botanic Gardens, Kew (2002–2006) and of the Tropical Health and Education Trust (2005–2006). She was a member of the Human Fertilisation and Embryology Authority in 2005–2006. She was a member of the Lords Select Committee on the Assisted Dying for the Terminally Ill Bill, 2004–2005, and of the Lords Constitution Committee, 2005–2006.
Pauline Latham MP
Vice Chair
Conservative - Mid Derbyshire
Joined: 30th July 2015
In Parliament, Pauline sits on the International Development Select Committee.  As a member of this committee she has been fighting to ensure investigations into the Sexual Exploitation and Abuse in the Aid sector and calling for "sustainable, meaningful change" in the sector to stop the abuse from occurring. The Committee is currently investigating the effectiveness of UK aid abroad. Pauline is also a member of the Joint Committee on Human Rights, a member of the Administration Committee, which looks at, amongst other things, the restoration and renewal of Parliament, and is a Secretary on the 1922 Committee of Conservative backbenchers. Pauline was previously a member of the Committee on Arms and Export Controls.
Pauline was previously a Parliamentary Private Secretary in the Foreign Office to the Minister of State, Rt Hon Sir Hugo Swire then to Rt Hon Sir Alan Duncan MP. She is currently the Prime Minister's Trade Envoy to Kenya and the Parliamentary Ambassador for the Performing Arts.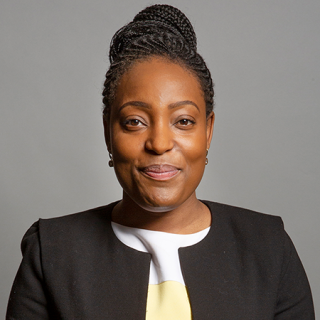 Taiwo Owatemi MP
Vice Chair
Labour - Coventry North West
Joined: 16 May 2023
Taiwo has been the MP for Coventry North West since December 2019.
Prior to becoming an MP, Taiwo worked for the NHS as a Senior Oncology Pharmacist, supporting and caring for cancer patients in their time of need. Taiwo continues to work in Coventry Hospitals when not in Parliament.
In Parliament, Taiwo is the Chair of the APPG on Pharmacy, Co-Chair of the APPG on Child Criminal Exploitation and Knife Crime, and Vice-Chair of a number of APPGs including on Africa, HIV and AIDS, Thalassaemia, and Youth Affairs.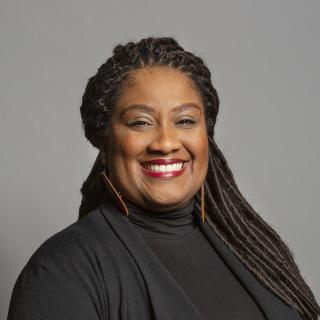 Bell Ribeiro-Addy MP
Vice Chair
Labour - Streatham
Joined - 30 March 2022
Bell Ribeiro-Addy has been the Labour MP for Streatham since 2019. She is currently a Member of the Women and Equalities Select Committee.
Bell was born and raised on Brixton Hill. She went to Bradford University, Queen Mary University of London and BPP Law School.
Before becoming an MP, Bell worked as an events co-ordinator at Kanu Nwankwo Heart Foundation, Race Relations officer at Bradford University Students Union, Campaign Co-ordinator and Administrator at the National Assembly Against Racism, National Black Students' Officer at the National Union of Students, and Campaigns Officer at Palestine Solidarity Campaign. She was Chief of Staff and Political Adviser to former Shadow Home Secretary, Diane Abbott MP.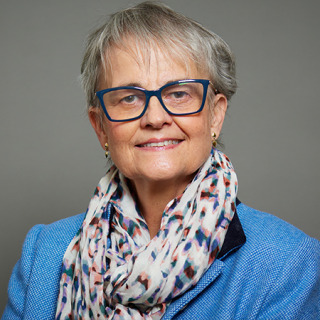 Baroness Ritchie of Downpatrick
Peer - Labour
Baroness Ritchie has been a Member of the House of Lords since October 2019. She was previously the Social Democratic and Labour Party Member of Parliament for South Down between 2010 and 2017.

In the House of Lords, Baroness Ritchie sits on the Committees on Common Frameworks Scrutiny and Secondary Legislation Scrutiny, and the Sub-Committee onProtocol on Ireland/Northern Ireland.

She is Co-Chair of the APPG on Nutrition: Science and Health.
Virendra Sharma MP
Vice Chair
Labour - Ealing, Southall
Joined: 21st April 2021
Virendra Sharma was first elected as MP in the Ealing Southall by-election on 19 July 2007. He was born in Mandalhi in Punjab, India and speaks fluent English, Punjabi, Hindi, and Urdu. He is married with a grown-up son and daughter and three grandchildren. He served as a councillor in Ealing for 25 years including a term as Mayor.
Virendra came to Hanwell from India in 1968 and started out as a bus conductor on the 207 route before studying at the London School of Economics on a Trade Union Scholarship and eventually working as a day services manager for people with learning disabilities in Hillingdon.
When first elected Virendra served as a member of the International Development Select Committee, which after a five year hiatus he returned to in 2015. He was a member of the Health Select Committee (2010-2015), along with membership of the Joint Committee on Human Rights. Since 2015, Virendra Sharma has returned to the Council of Europe where he is a member of the Sub-Committee on Refugee and Migrant Children and Young People.
Virendra currently chairs the Indo-British All-Party Parliamentary Group, leads the APPG for Gurkha Welfare, and is Co-Chair of the APPGs on Nepal, the Tuberculosis Group, and the Hepatitis Group.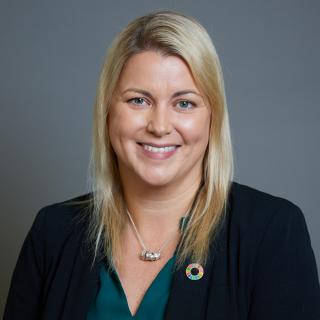 Conservative - Life Peer
Joined: 30 March 2022
Baroness Sugg became a Conservative life peer on 30 August 2016.
In Government, Baroness Sugg has been Parliamentary Under Secretary of State for Transport, Government Whip (Baroness in Waiting), and Parliamentary Under Secretary of State at the Department for International Development. In 2020, she was appointed Parliamentary Under Secretary of State in the Foreign and Commonwealth Office and the Department for International Development, becoming Minister for Overseas Territories and Sustainable Development and the Prime Minister's Special Envoy for Girls' Education until her resignation in November 2020 over the decision to abandon the UK's commitment to spend 0.7% of national income on overseas aid.
Baroness Sugg previously served as Director of Operations and Campaigns at Downing Street under David Cameron, and was appointed a Commander of the Order of the British Empire (CBE) in the 2015 Dissolution Honours.
James Sunderland MP
Vice Chair
Conservative - Bracknell
Joined: 21 April 2021
James Sunderland was brought up in West Surrey, and was educated at the Royal Grammar School in Guildford, the University of Birmingham (BA Hons), Kings College London (MA), and the Defence Academy. 
In 1993, James was commissioned into the British Army from the Royal Military Academy at Sandhurst and served for 26 years as a Regular officer, only leaving at short notice in November 2019 to stand as a Parliamentary candidate. His Regular service consists of continuous Regimental Duty and staff appointments from 2Lt to Col. His operational service includes tours in Iraq, Bosnia, Africa, and the Falklands. More recently, James served as Commander of the Army Engagement Group, responsible for high-level engagement with Ministers, MPs, Lord Lieutenants, High Sheriffs, Councillors, and societal gate-keepers on behalf of the Army Board.
In addition to his military career, James has been a Governor at a primary school in Surrey, a Speedwatch and Road Safety Campaigner in Hampshire, a Trustee of the Royal Logistic Corps Benevolence Committee, Chairman of the British Army Motorsports Association, and a regular fund-raiser for several charities, including the Royal British Legion, Samaritans, Help for Heroes, SSAFA and Step by Step (Aldershot). 
In March 2021, James was elected the Chairman of the Armed Forces Bill Select Committee. He has also been a Parliamentary Private Secretary at the Ministry of Defence and at DEFRA.
Derek Thomas MP
Vice Chair
Conservative - St Ives
Joined: 16 May 2023
Derek Thomas is the Conservative MP for St Ives, and has been an MP continuously since 7 May 2015.
In Parliament, Derek sits on the Environment, Food and Rural Affairs Select Committee having previously sat on the Environmental Audit Committee, the Work and Pensions Select Committee, the Health and Social Care and the Science and Technology Select Committees. Derek is an officer and member of numerous of APPGs, including Chair of the APPGs on brain tumours, diabetes, and rural services.
Derek supports a number of charity initiatives. Before becoming an MP, he was a development manager at Mustard Seed, a Helston-based charity helping vulnerable adults. More recently Derek has joined Penwith Rotary Club and become a trustee of the Sport Cornwall Foundation, which seeks to seize sporting opportunities and get more local people into sport. In 1997 he set up (and continues to run) Survivealive Youthworks, an outdoor adventure project for young people.
Derek grew up in West Cornwall and after leaving education, completed a Cornish Mason apprenticeship, enabling him to set up his own small construction business. He also served as Penwith District Councillor and on St Buryan Parish Council.