The APPG and the International Society for Neglected Tropical Diseases (ISNTD) are co-hosting an event in the UK Parliament:
The arboviral threat: a growing hazard in an uncertain world
Wednesday June 14th 2023, 16.00-18.00 (UK time)
Speeches and discussion, followed by a short reception:
·         Dr Ibrahima Socé Fall (World Health Organization, Director of the Department of Control of Neglected Tropical Diseases)
·         Dr Dinu Guruge (Ministry of Health Sri Lanka and DNDi)
·         Dr Theodore Tsai (VP Immunizations Science and Policy, Takeda)
·         Dr Juan Carlos Jaramillo (Chief Medical Officer, Valneva)
This session will look at the growing threat of arboviral diseases such as dengue and chikungunya, the responses and collaborations urgently needed for those regions experiencing explosive outbreaks, as well as the risks and roles for non-endemic countries.    
For more information, or to register your interest, please email: secretariat@appgmalariantds.org.uk
For more information on upcoming events, please contact Martha Varney, Coordinator of the APPG on Malaria and NTDs
APPG ANNUAL GENERAL MEETING 2023
The APPG on Malaria and Neglected Tropical Diseases held its AGM on Tuesday 16 May 2023.
Those Parliamentarians present agreed the election of the following Officers unanimously:
Chair and Registered Contact: Catherine West MP
Co-Chair: The Lord Trees
Vice-Chairs: Tanmanjeet Singh Dhesi MP, The Rt Hon the Baroness Hayman GBE, Pauline Latham OBE MP, Taiwo Owatemi MP, Bell Ribeiro-Addy MP, The Baroness Ritchie of Downpatrick, Virendra Sharma MP, The Baroness Sugg CBE, James Sunderland MP, and Derek Thomas MP
Those Parliamentarians present agreed that, over the next year, the APPG would focus on the following priority areas of work:
raising the profile of malaria and NTDs;
demonstrating the impact and value of UK aid;
supporting and promoting British-backed science, research and innovation, with a particular focus on UK regional-based malaria and NTD research institutions; and
continuing to build close working relationships with Parliamentary Groups, forums and caucuses in endemic countries.
In addition, the APPG will consider exploring themes around:
harnessing the strengths of researchers in endemic regions and promoting research partnerships;
promoting coordination and collaboration between malaria and NTD programmes and existing investments to multiply the benefits of UK development – e.g. in nutrition, WASH, education, disability inclusion, and maternal and child health;
cross-cutting issues – including conflict (with a focus on Sudan), climate change, and changes to the natural environment including flooding – which impact on malaria and NTD rates, and cross-cutting themes prioritised within the International Development Strategy and Integrated Review Refresh – including women and girls, pandemic preparedness, and health system strengthening;
a focus on high-burden countries, and last mile elimination efforts;
raising the profile of noma and other neglected diseases; and
building relationships with Parliamentary Groups, forums and caucuses in other donor countries.
NTD RECEPTION IN THE HOUSE OF LORDS
On Wednesday 8 June 2022, Lord Trees, co-hosted a reception in the House of Lords with the UK Coalition against Neglected Tropical Diseases. The reception aimed to raise the Parliamentary profile of NTDs in the run-up to the Commonwealth Heads of Government Meeting and the Kigali Summit on Malaria and Neglected Tropical Diseases, by sharing successes and impact from UK investment to date.
At the reception, we heard from people who had been affected by NTDs including Pip Stewart who spoke about her experience with leishmaniasis, Rachna Kumari who spoke about her leprosy, and Delphine Pedeboy who spoke about Female Genital Schistosomiasis (FGS). We also heard from those who are working towards their elimination – including Professor Abebaw Fekadu who spoke about the successful research partnerships with the UK and NTD-endemic countries.
Baroness Sugg helped to launch FIG (FGS Integration Group) together with Felicia Wong. FIG is a new coalition being set up to address the often overlooked condition of FGS – galvanising joint action across the NTD, sexual and reproductive health and rights, HIV, HPV/cervical cancer, and water, sanitation, and hygiene sectors.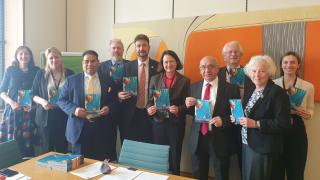 APPG ANNUAL GENERAL MEETING 2022
The APPMG held its AGM on Wednesday 30 March 2022.
We were delighted to elect four new Vice-Chairs onto the Group:
Afzal Khan MP (Labour, MP for Manchester Gorton)
Khalid Mahmood MP (Labour, MP for Birmingham Perry Barr)
Bell Ribeiro-Addy MP (Labour, MP for Streatham)
Baroness Sugg (Conservative)
Our Chair and Vice-Chairs from 2020/21 were all re-elected unanimously.
The Parliamentarians present at the meeting agreed the focus for the work of the APPMG over the next Parliamentary year. This work includes:
demonstrating the value and impact of UK aid on malaria and NTDs;
raising the profile of malaria and NTDs ahead of and during CHOGM and the Kigali Summit on Malaria and NTDs;
making the case for an ambitious UK pledge in the Seventh Replenishment of the Global Fund and supporting the work of the Global Fund;
supporting and promoting British-backed science, research and innovation, with a particular focus on UK regional-based malaria and NTD research institutions; and
re-establishing the close working relationships with Parliamentary groups, forums and caucuses in other countries that was developed pre-pandemic under former Chair, Jeremy Lefroy.
POLICY PRESENTATIONS FROM GLOBAL HEALTH AND TROPICAL MEDICINE STUDENTS
In March 2022, the APPG on Malaria and NTDs hosted 25 students from Oxford's MSc International Health and Tropical Medicine Course in Parliament. The students prepared and presented policy briefings on range of global health topics, selected by APPG Members and Partners:
What is the intersection between malaria and AMR, and what implications does this have for role of malaria programmes in building health security?

What policy arguments may persuade donor countries to maintain or increase funding for research and innovation around NTDs in the current Covid situation?

Can climate finance enhance the resilience of global health? 

When many public health programmes such as mass treatment are valued on their cost-effectiveness, how can the less cost-effective 'last mile' disease elimination efforts be better valued politically and economically?

For some diseases, control interventions can be more effective when focused in a non-human sector, but this is may not have obvious benefits to those stakeholders needing to take this action (for example, while sheep vaccination against echinococcosis can be important to prevention of transmission to humans, it is of little production value to a farmer who must be the one to take action). How can the benefits of veterinary public health interventions to human health be better communicated and achieved?

What are the arguments in favour of, and against, a new Pandemic Treaty as proposed by the WHO?
THE ROLE OF BRITISH-BACKED SCIENCE IN ACCELERATING THE FIGHT AGAINST MALARIA AND NTDS
On 16 November 2021, the APPG on Malaria and NTDs worked with Partners to host a virtual event, 'Science Superpower: The Role of British Backed Science in the Fight Against Malaria and NTDs', on the importance of R&D and PDPs in the fight against malaria and NTDs. The discussion focused on the importance of continued long-term investment by the UK government to ensure that new tools are taken from development to delivery.
The event was chaired by the APPMG's Chair, Catherine West MP, and featured a keynote address from the Minister for Global Health, Wendy Morton MP, who recognised the work of PDPs and re-affirmed Britain's commitment to supporting R&D to tackle global diseases. Dr Indra Napit, Nepal Site Lead for The Leprosy Mission at Anandaban Hospital, gave a presentation on an innovative trial of autologous blood products to promote ulcer healing in leprosy funded by the National Institute for Health Research (NIHR) Research and Innovation for Global Health Transformation (RIGHT) grant.
Panellists:
Dr David Reddy - CEO, Medicines for Malaria Venture
Dr Nick Hamon - CEO, IVCC
Dr Charles Mowbray - Discovery Director, DNDi
Professor Sian Clarke - Professor of Epidemiology & Global Health, LSHTM
Professor Richard Lilford - Professor of Public Health, Birmingham University
UK PARLIAMENTARY LAUNCH OF THE WHO NTD ROAD MAP
In April 2021, the APPG on Malaria and NTDs worked with the UK Coalition against NTDs to host a virtual, cross-APPG event to profile the new WHO NTD Road Map. The event was an opportunity to highlight the contributions that UK aid has made to the fight against NTDs and to discuss how UK aid could evolve to meet these new ambitions during the COVID-19 pandemic and beyond. The event also addressed how NTD programmes and UK aid have contributed to achieving universal health coverage. It also showcased the benefits of cross-sectoral collaboration, and the links between NTDs and other UK global health and development priorities.
Professor Gail Davey, Professor of Global Health Epidemiology at The University of Sussex and President of the Royal Society of Tropical Medicine and Hygiene moderated the discussion, which also featured a presentation from Dr Mwele Malecela, Director of the WHO's Department of NTDs.
Panellists comprised of a range of implementing and policy stakeholders from across NTDs, water, sanitation and nutrition who spoke to the priorities of UK aid, NTDs and the SDGs.
Speakers:
Dr Wendy Harrison - CEO SCI Foundation/Lancet One Health Commission
Helen Hamilton - Senior Policy Analyst, WaterAid 
Dr Julian Eaton - LSHTM/CBM Global
The APPMG's Chair, Catherine West MP, and Vice-Chairs, Lord Trees and James Sunderland MP, also spoke in support of cross-Party collaboration to help protect and champion UK aid.
WEBINAR ON COLLABORATION TO BEAT RABIES
In February 2021, the APPMG held a webinar with an expert panel of speakers, including representatives from OIE Animal Health, the Food and Agricultural Organisation of the United Nations (FAO), the WHO, and the UK's Animal and Plant Health Agency (APHA) to discuss how collaborative working can help improve prevention and control of rabies and other zoonotic diseases and health threats.
The APPMG's Chair, Catherine West MP, and Vice-Chairs, Lord Trees and Baroness Masham of Ilton, were joined by Joseph Kabakeza, First Counsellor at the High Commission of Rwanda to the UK, who outlined the Rwandan Government's commitment to tackling rabies and other NTDs.
Panellists:
Dr Bernadette Abela-Ridder - Team Leader on neglected zoonotic diseases and NTDs that have a human-animal interface at the WHO Department for the Control of NTDs
Dr Keith Sumption - Chief Veterinary Officer at the FAO
Sarah Cleaveland - Veterinary Epidemiologist
EXPLORING BRITISH LEADERSHIP ON MALARIA
On 3 December 2020, the APPG on Malaria and NTDs hosted a virtual event to celebrate the launch of a new video from the Malaria Must Die campaign, A World Without Malaria, featuring David Beckham.
The event explored the latest World Malaria Report from the WHO, and the importance of the UK maintaining it's crucial leadership and investment in the global fight against malaria, to save children's lives today and help build the very infrastructure needed to protect us all from future pandemic diseases.
The event was chaired by broadcaster and Malaria No More UK Special Ambassador Charlie Webster, and included a panel discussion and Q&A featuring:
Panellists:
Rt Hon Andrew Mitchell MP - former Secretary of State for International Development
Stephen Doughty MP - Shadow Minister for Africa
Ingrid Etoke - Senior Market Access Manager, IVCC
Bridget Wachira - Director Global Health, GSK
Ross Plummer - Managing Director, Ridley Scott Creative Group, Europe